Monthly Archives:
February 2012
Wow! it has come to that point in the year when the next round of twilight saga madness begins!
3 exciting things have either happened or will happen this month in the twilight world.
1- On February the 1st the Hillywood Show released their Breaking Dawn parody – a must see for any twilight fan who likes a good giggle! I think this is the best parody they have done so far, they just get better and better! make sure to like The Hillywood Show on facebook and follow them on twitter @Hillywoodshow
Enjoy! don't forget that the Hillywood Show are doing a reaction video competition! To enter, simply record a video of you watching the Breaking Dawn parody for the first time and post it as a video response!

2- New Breaking Dawn clip released! In the USA there were midnight release parties for the breaking dawn DVD release which came with a surprise new clip from Breaking Dawn part 2 feauturing the newly turned Bella and her o-so-loving husband, Edward. Squee!!

As always, as there is a new clip to watch, NuttyMadam was sure to post a reaction video! We all love Emma and her videos!!

3- and finally, ET7 (Eternal Twilight 7) is approaching fast as it is this weekend! From SLOFL Myself, Lauren and Kimi will be attending and we are VERY excited as some of our favourite cast members are attending! The guest line up so far is Myanna Buring (Tanya), Bronson Pelletier (Jared), Alex Meraz (Paul), Booboo Stewart (Seth) and Noel Fisher (Vladmir). Tickets are still available but you can only buy them online for another few days! The convention is held in Birmingham from the 17th-19th Feb. EXCITEMENT! Make sure you follow the blog on twitter @SLFictionLovers as we will be tweeting from the event!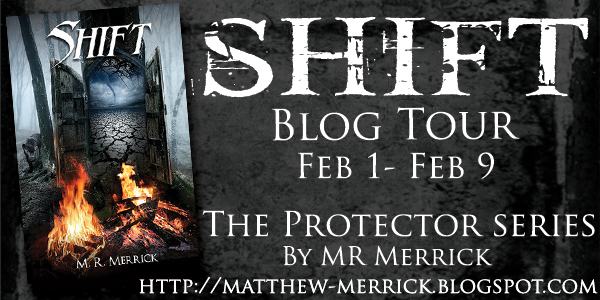 It is day 7 on the Shift blog tour and your next stop is here! Welcome! Fellow fans of the Protector series, I'm sure you guys were just as excited as we were when 1st Feb finally came around and that lovely, talented Mr. Merrick finally released the second instalment of the series, Shift. If you haven't got around to buying it yet then let's tempt you with a teaser…
My eyes tore open to the sound of screaming. The drywall rattled and Rayna's voice raged through the wall. My pulse jumped as panic set in and I leapt from my bed moving straight for the door.

I ran through the archway, pants tangling on my legs as I tried to pull them up. Marcus, Willy, and Tiki were halfway down the hall, their faces owned by fear.

Marcus reached the door before me, turned the silver handle, and pushed through. The door creaked and the smell of blood, sweat, and something else seeped from the darkness. Marcus flicked on the light and I saw what I already feared.
Dun, dun, dun! Desperate to find out what happens next? Well, what are you waiting for? Below are the links to both Exiled (Book 1 in the Protector series) and Shift:
Exiled US – http://www.amazon.com/Exiled-The-Protector-ebook/dp/B0058OMWYU/ref=sr_1_2?ie=UTF8&qid=1319664291&sr=8-2
Exiled UK – http://www.amazon.co.uk/Exiled-The-Protector-ebook/dp/B0058OMWYU
Shift – US http://www.amazon.com/Shift-The-Protector-ebook/dp/B0073APDSO/ref=sr_1_1?s=digital-text&ie=UTF8&qid=1327938703&sr=1-1
Shift – UK http://www.amazon.co.uk/Shift-Protector-Book-2-ebook/dp/B0073APDSO/ref=sr_1_1?s=digital-text&ie=UTF8&qid=1328194471&sr=1-1
We are also hosting a giveaway. We have 1 ebook copy of Shift to giveaway. All you have to do to enter is either leave a comment below this post (along with your email address so we have a way to contact you if you win) or tweet us @SLFictionLovers simply saying you'd like to win a copy of Shift (a witty reason why is optional :p ). The closing date will be 19th Feb and we will pick the winner at random.
Good luck!
SO PLEASE DO NOT READ IF YOU HAVE NOT SEEN THE LATEST EPISODE OF GOSSIP GIRLS. 
IF YOU HAVE SEEN EPISODE 13 PLEASE SCROLL DOWN!
So I was really sick last week and spent all week catching up on my favourite shows 12 hours a day. I got to watch the latest episode of Gossip Girl. It was Blair's wedding to Louie and I knew it was going to be an awesome episode! I wasn't disappointed! The wedding was fantastic and went out with the traditional GG bang! I'm still a 'Chair' fan! Blair and Chuck always and forever!
However at the end Gossip Girl was revealed. I didn't expect this and I certaintly didn't expect it to be Georgina!!!
So I put my Upper East Side head on and thought, right if they were going to reveal the real Gossip Girl they would have come up with something better than closing the episode showing Georgina uploading a post to the site. I was thinking they would do more of a 'Nate finds out who she is, enlisted the gang to trap her and show the world who she is in total Gossip Girl style', so I began to think maybe this is a cover? But nope it is not. According to all the interview's I've read today, the producers and writers have said that Georgina IS the real Gossip Girl! However Kristen Bell will always be the voice!
What do you guys think? I am bit in shock over it!
Oh BTW I am even more in love with Chuck Bass than ever!!!!!!!